Create full Masters programmes with our E-learning software.
Fully fledged E-Learning System
expertshare allows you to build a powerful fully integrated online courses all the way to creating virtual Bachelor's & Master's courses. With a full system from course creation, to student management all the way to creating online test for courses. expertshare allows you to create tasks and curriculum all from our web based platform
Used by thousands of users
Our learning platforms are used by thousands of users worldwide – a living proof that they work. We facilitate both e-learning and e-learning management, making sure you can reach internal employees as well as external, paying customers.
Trainings or collaborative solutions – we help you embrace various learning technologies, so you can share your expertise while letting others grow alongside your business. Customise every feature to suit the needs of your brand and accurately convey your message.
Flexible and collaborative
In contrast to generic, off-the-shelf learning platforms, our focus is on flexibility and collaboration. We can provide you with guidance and support your experience on a long-term basis.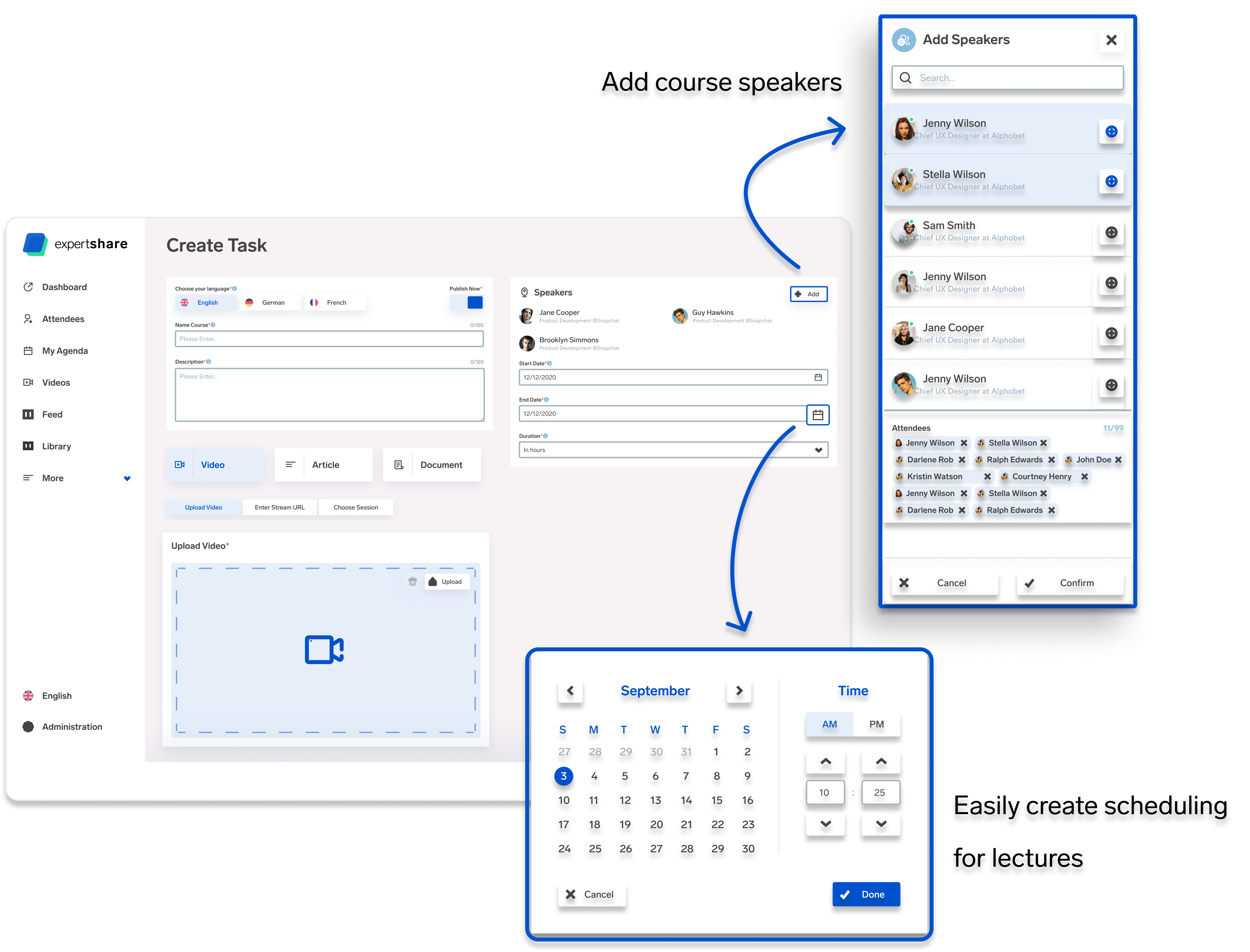 Automatic certfication
Issue your student with attendance certificates to certifiy they have watched the entire course videos.
Multi-language
Our software currently supports English, German and Italian, however we are able to customise to whatever language you may require.
Educators can create full curriculums usings our platform. With ability to add courses, video and other lesson materials.
With our task page view you can see how many students have completed a task, duration of lectures viewed and more.
Create online quizzes that's really easy to use. It's the perfect tool for testing your student's knowledge and ensuring learner retention.
This is a great way to support your core message and help your learners better retain information.
Easily generate online exams for all students. From simple tests to large exams all without installing any tools.
Create test in collaboration with colleagues using our diverse communication features.
Send a message using our quick contact form